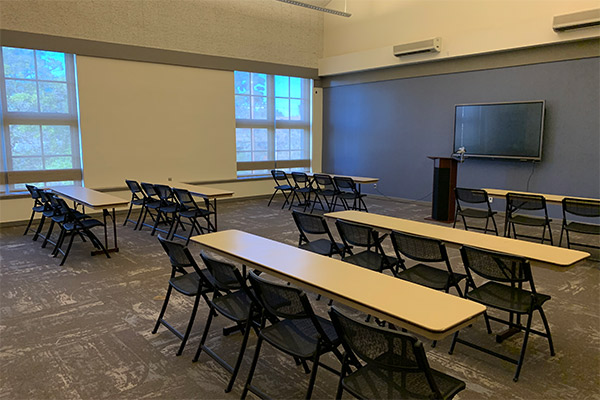 Officially named after Clark Kerr Campus, this space offers intimate ambiance for a small to medium gathering for your special occasion. Book this room today!
Projector Screen
Smart Tv
Podium
Whiteboard
Student Affairs Affiliates
Please note that a reservation request for Clark Kerr Campus must be submitted no later than 21 days in advance in order to accommodate staffing, catering, and/or logistical needs. If you are hosting or planning a Major Event, please refer to Campus's procedures for Non-Departmental Users to request access to campus facilities. This policy also explains the definition of a major event. For Student Groups, if you have any questions about this policy, please contact the LEAD Center at lead@berkeley.edu. For non-campus affiliates, if you have any questions about this policy, please contact Risk Services at risk@berkeley.edu.
Your rental includes a planning meeting with an Event Coordinator. The meeting should take place 60 days before your event. Please come prepared with: exact times, set-up needs, and catering needs.
3 room diagrams depicting the layout of your event are created during this meeting. Additional diagrams are $77 each. Room diagrams are final 3 business days before your event.