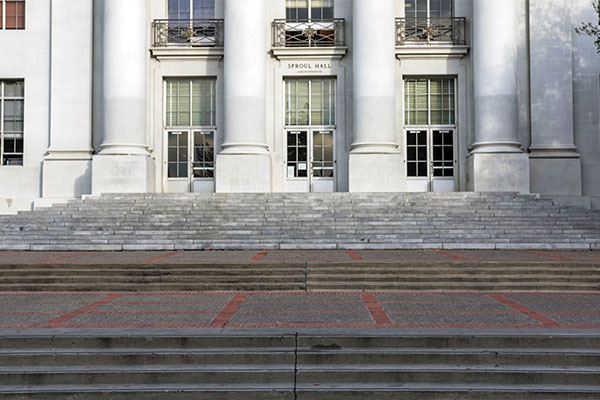 Made famous by Mario Savio's 1964 speech, signify the beginning of the Free Speech Movement. The Savio Steps are still used as a platform for student advocacy, performances, and gatherings. Framed by UC Berkeley's classical- revival Sproul Hall.
Wired microphones (up to 5)
(Standing) microphone stands (up to 5)
(Table top) microphone stands (up to 5)
Projector
Large projector screen
Small projector screen (2)
Presentation remote
Mac adapter (2)
Speakers
Ballroom chairs (300)
Coat racks (2)
Easels
Pipe and drape
Podium
Cocktail rounds 30″ (10)
Table 6'x18″ (10)
Table 6'x30″ rectangular (22)
Table 5′ diameter round (20)
Rolling whiteboard
Student Affairs Affiliates
Your rental includes a planning meeting with an Event Coordinator. The meeting should take place 60 days before your event. Please come prepared with: exact times, set-up needs, and catering needs.
3 room diagrams depicting the layout of your event are created during this meeting. Additional diagrams are $77 each. Room diagrams are final 3 business days before your event.