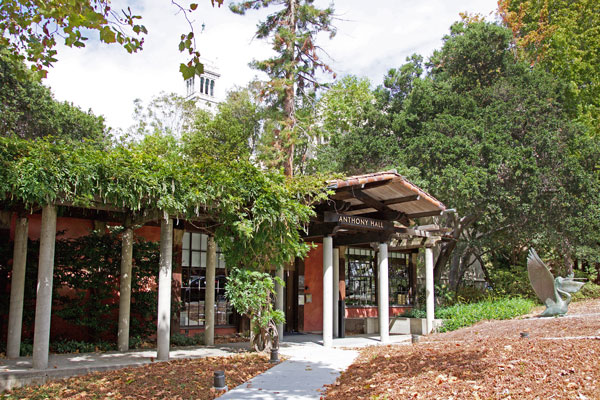 Anthony Hall, also known as The Pelican Building, is one of Berkeley's historic buildings, designated as a Berkeley landmark in 2011.  With an outdoor patio near Strawberry Creek, and several rooms within the hall, it is an ideal space for receptions, lectures, and intimate banquets.
Please also note that Anthony Hall can only be reserved by Campus Departments, Graduate Student Organizations, and Public Clients.  If you are hosting or planning a Major Event, please refer to Campus's procedures for Non-Departmental Users to request access to campus facilities.  This policy also explains the definition of a major event.  For Student Groups, if you have any questions about this policy, please contact the LEAD Center at lead@berkeley.edu.  For non-campus affiliates, if you have any questions about this policy, please contact Risk Services at risk@berkeley.edu.
Your rental includes a planning meeting with an Event Coordinator. The meeting should take place 60 days before your event. Please come prepared with: exact times, set-up needs, and catering needs.
3 room diagrams depicting the layout of your event are created during this meeting. Additional diagrams are $77 each. Room diagrams are final 3 business days before your event.